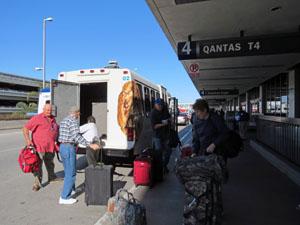 Finally the time came to leave the hotel
and go to the airport. Everyone was so anxious that we got to the airport at 4PM for our 1140PM flight. May as well hang out here instead of sitting in a hotel room. At least it makes you feel like you're getting somewhere.
We were lucky to find the Qantas desk empty
so check in was a breeze. So was security. Gee, more time to wander the halls and sit at the gate. We all sat in close proximity so could talk and get to know each other a little. It doesn't take long to at least recognize people in our group.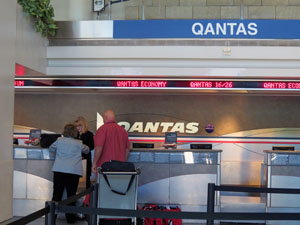 We left LAX on time and the 12 hour flight was uneventful. Arrived in Auckland a bit early, cleared customs and immigration then we all walked the 15 minutes over to the Domestic terminal for our flight to Christchurch. It was a beautiful, warm day as we pushed our luggage on a trolley while enjoying stretching our legs. We had a bit of a wait for our next flight so we got money from an ATM, had a bite to eat and coffee. I love the flat whites here. We know them as a latte.
In Christchurch we were met by our bus driver. It took longer to load all the luggage than to drive to the hotel. It was nice being back at the Commodore Hotel with its resident cat Ken who still wanders the halls looking for a warm spot to curl up for a nap.
We arrived at the hotel at about 4PM and couldn't wait to go to our rooms to shower. Don't take a nap! We have dinner at 630PM. Wow! What a meal it was. Everyone cleaned their plate including a decadent chocolate cake with ice cream. Now we're ready for bed! Tomorrow our adventure begins