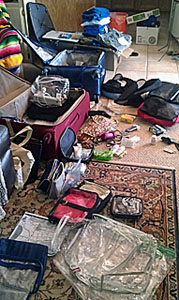 It's been a whole year that we've anticipated going on our dream vacation to New Zealand & Australia. We've talked about it almost every day and like children waiting for Santa Claus we thought it would never get here.
Not long after we signed up for the tour we ordered some zip off slacks and some quick dry undies and socks. I figure we'll hand wash what we can every couple of days. My sweetie bought me a new camera for Christmas and I can't wait to do some birding in both countries. I've seen photos of the colorful birds in Australia and hope my long zoom can bring them up close! We pulled our Passports out of the Safe and made sure they weren't expired. Also checked our Driver's License and Credit & Debit Cards. I made copies of everything and wrote down the non 1-800 number in case a card gets lost or stolen (you can't use the 800 number to call home from a foreign country). I scanned these documents into my computer and they are available on my iPad too.
About three months from our trip departure our Wagonmaster called us and answered all of our questions and gave us some tips on a few things we might want to bring with us. He gave us his Email ID and home phone number if we thought of anything we wanted to ask. A couple of times he sent us Emails with information on some optional tours we may be interested in. In Sydney we signed up to do the Bridge Climb and go to a symphony performance inside the famous Sydney Opera House! How cool is that! A couple of weeks ago he sent us information on a new Zip Line in New Zealand and of course, we signed up for that too. We are still holding out on doing the bungee jump but we'll see when we get there.
One week out we dusted off the suitcases and opened them up in the middle of the living room floor. I'm a list maker so had a list of how many slacks, how many shorts, underwear, socks, etc. Of course when I started putting items together I added one more of everything. It's the usual things you pack for any trip you take but of course, this one is going to be 64 days long! We were told by our Wagonmaster  that we would need warm, layered clothing in New Zealand and lighter clothing for Australia. And a bathing suit because we're going snorkeling on the Great Barrier Reef! OMG! I'm so excited about seeing the largest living thing on earth!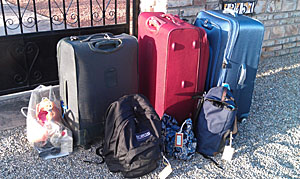 Two suitcases are now stuffed and weigh almost 50 pounds each, our limit for the airlines. Hmmmm. Need a whole other suitcase for the stuff we want to take for the RV. We have our two way radios we picked up at WalMart along with a huge supply of batteries. Our Wagonmaster told us that batteries are more expensive Down Under so maybe bring some extras. We bought some adapter plugs so that we can charge our iPad and camera in the RV. He also told us almost all electronics have a built in converter so we won't need one.  We used a plug-in converter in Europe once and it blew up my curling iron. I also bought a dual voltage hair dryer at WalMart. Since we'll be doing laundry in Laundromats at the RV parks I found some nifty little capsules instead of packing or buying liquid detergent. I included a short line with clips to hang things up in the RV that I hand wash. I packed a few snacks that we especially like. I am hooked on WalMart sugar free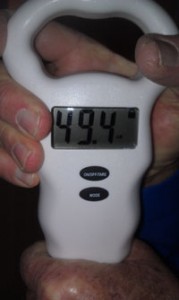 oatmeal so packed two boxes. Our Wagonmaster told us that we'll be able to find just about everything we can get here but it may be a different brand. I doubt they have WalMart so am not taking any chances. For good measure I threw in two rain ponchos, mosquito hat netting for the Outback and sun tan lotion. Since we'll be in separate RVs in two countries, I picked up two little throw rugs to wipe our feet inside the RV.  This suitcase now weighs almost 50 pounds! How can that be?!
It's the night before we leave for Los Angeles. So much to prepare the house for being absent for 2+ months. Other than locking up the house the most important thing is to empty the fridge of perishables and take all the trash to the neighbor to put out on trash day. I don't think we'll be able to sleep tonight. I'd hate to oversleep and miss our 9AM flight!
More to come as the journey begins. I hope some of the other guests will be there to meet tomorrow. We are so excited!