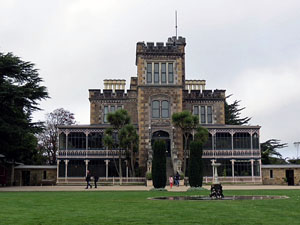 We arrive in Dunedin, the 2nd largest city on New Zealand's South Island and our city tour takes us to the Dunedin rail station, Larnach Castle and Baldwin Street, the world's steepest street. 
Dunedin sports many ornate buildings from the late 19th and early 20th century.  Our tour stops at the famous Dunedin railway station.
 Our guide tells us it is the most photographed building here on this island.  We all take the opportunity to get photographs.   How could one resist such opulent splendor?
We are now off to lunch and a visit to the famous Larnach Castle.  In England this is known as a "Folly" or building built primarily for decoration.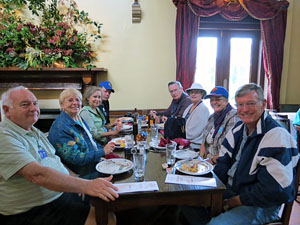 It sets on a bluff overlooking the Channel coming into Dunedin.  The gardens are world famous and one of the five which have been given the name of "Garden of International Significance" by the New Zealand Garden Society.
I join the group for a climb up Baldwin Street.  Here we encounter a 45% grade.  The record for the climb is 1 minute 56 seconds.  My climb takes me 7 minutes and now my calves are barking and I am a little winded.  Peggy Huegele did the same walk and doesn't even look winded.

Tonight we went to Hell's Pizza for dinner and we all agreed it was another fantastic meal.  My Fantasy RV Tour ambassadors told me that I should forget dieting and were they right.  Fantasy knows the best places to eat.  I think I will waddle home.   The group enjoys our meal and the chatter is all about the great sights we visited today.  I guess with my walk up Baldwin Street, I can allow myself that second slice of pizza and maybe a refill on my wine.   Our wagonmaster  does our travel briefing for tomorrow and the day promises to be another scenic drive through  South Island's landscape.